It's very important to confirm the cable spec before mass production. I'll focus on those areas that require special attention.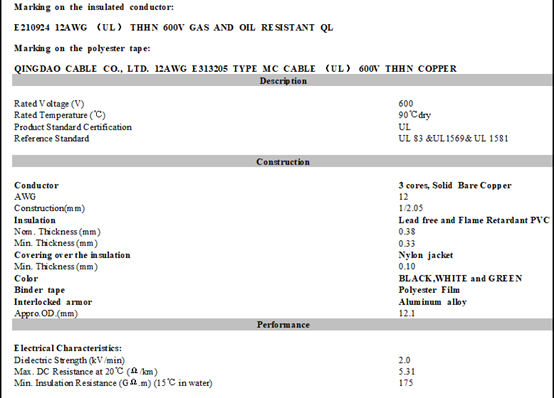 Standards – Cables are built to various UL, and international standards. Ensure there is a standard listed that fits your application. We are now focusing on production of various type of UL listed wires and cables, like THHN/THWN-2, TC/TC-ER,MC, Irrigation Cable,XHHW-2/RHW-2.
Construction – Does the cable construction match your intended use? The spec may list optional features, but these features often are made-to-order, with a minimum order quantity and lead time. Examples of common optional features are jacket types, different shields, colorsandstranding.For instance, Type THW  and  Type THHN, are both under standard UL83, but they are two types of building wire with different construction. There is an extra nylon sheath for type THHN compared with type THW.
Dimensional information – Most dimensional information is determined by the UL standard the cable is built to. For example, type THWN-2 , wire size scope is from 14AWG to 1000Kcmil, type XHHW-2  wire size scope is from 18AWG to 2000Kcmil. Items like insulation, armor, and jacket thicknesses are typically mandated by the standard within specified tolerances and will be common among cable brands. Cables have manufacturing tolerances that should be considered when selecting cable glands to ensure that your cable OD is not too close to gland fit range limits.
Spec sheets found via online searches are not 100% reliable. Often, they are outdated or made-to-order items with manufacturing lead times or minimum order quantities that don't match your project requirements. Feel free to contact us before adding it to your specification or RFQ to confirm if the gauge size or cable type is an item that is typically stocked and available in the quantities or lengths you require. If you're lucky enough to have a large project with plenty of time to order cables, you can consider made-to-order constructions that best fit your specific application.
---
Post time: Mar-10-2021